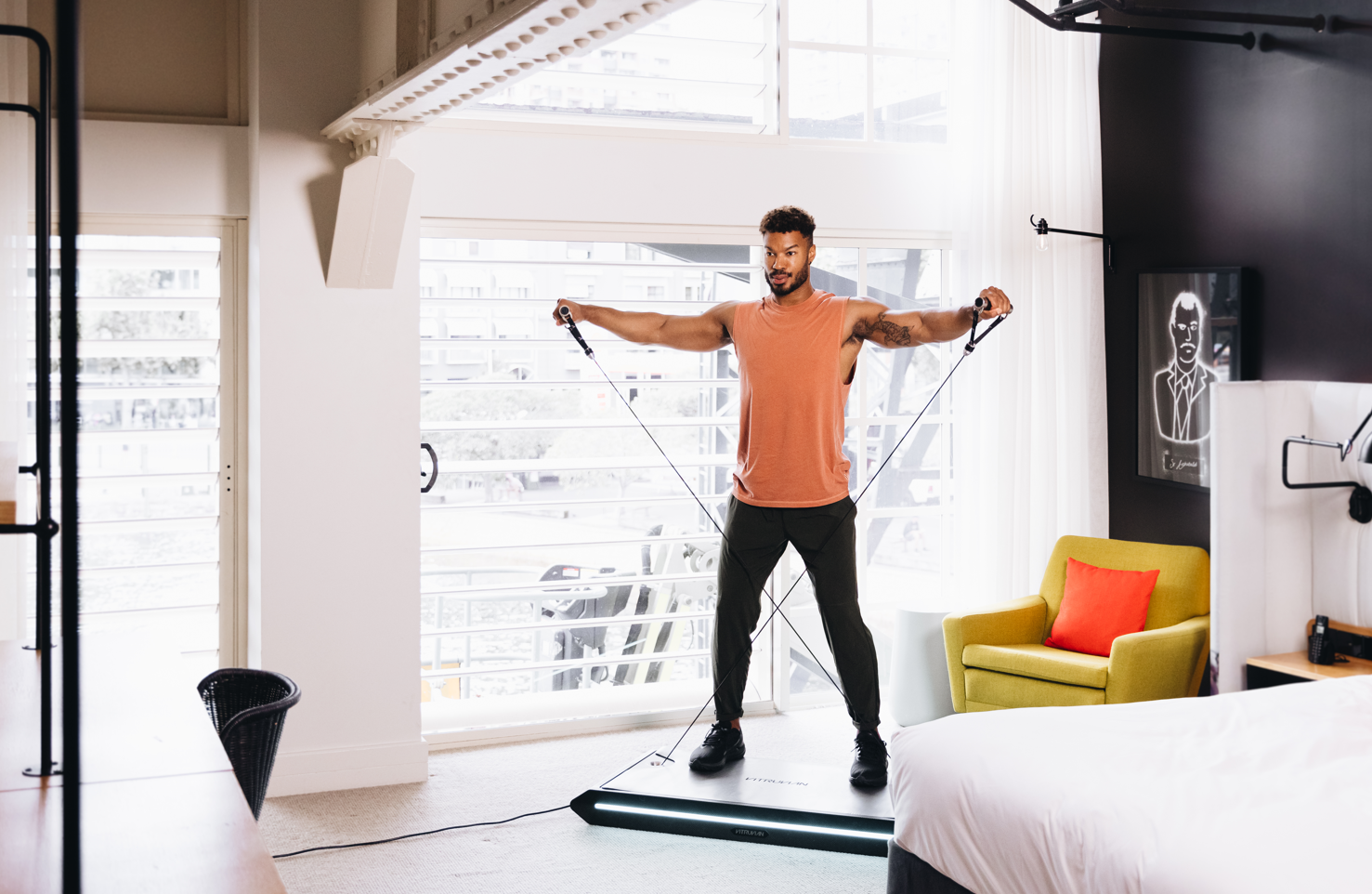 Elevate Your Resort's Fitness & Wellness Experiences
In the ever-evolving landscape of luxury resorts, it has become increasingly important to provide exceptional fitness and wellness experiences to attract discerning guests. Explore how taking fitness and wellness to the next level can become a key differentiating factor for your property. And how ProFitness' premium fitness and wellness solutions can help luxury Maldives' resorts achieve this goal.
In-Room Fitness: Redefining Convenience and Privacy
Dubbed the 'future of hotel fitness' by experts, in-room fitness spaces have emerged as a magnetic force, as they grant guests the luxury of personalized workouts, available at their convenience and within the confines of their private sanctuaries. In fact, research by CWT revealed that 27% of business travelers highly value in-room fitness, with this figure expected to grow since 2020. No wonder top hotel brands such as Hilton have quickly joined this evolution.
Outdoor Fitness: Embrace the Beauty of Nature
Travelers today are increasingly seeking unique and immersive experiences that allow them to connect with nature. Outdoor fitness facilities have gained significant appeal as guests can engage in invigorating workouts while enjoying the breathtaking beauty of their surroundings. They appreciate the opportunity to exercise amidst lush landscapes, feeling rejuvenated and inspired by the natural elements.
Fitness experts believe that outdoor fitness could be one of the most popular fitness trends. According to a survey conducted by RunRepeat in 2020, 72% of gym members were expected to exercise outdoors in 2021.
Aerial Yoga: Elevate Mind, Body, and Spirit
Travelers are increasingly embracing wellness practices that focus on the holistic well-being of their mind, body, and spirit. Aerial yoga has become highly appealing as it offers a unique blend of yoga, aerial arts, and mindfulness. Not only does it promote increased flexibility, strength, and balance, but it also enhances cognitive function, reduces stress, and fosters emotional well-being.
By providing an aerial yoga studio, you create a captivating and immersive space where guests can connect with themselves, explore new depths of self-discovery, and rejuvenate themselves amidst the serene surroundings of your resort. This extraordinary wellness offering sets your property apart, attracting discerning travelers seeking holistic experiences that nourish their well-being, while fostering lasting memories and cultivating loyalty.
Water Aerobics: Dive into Refreshing Fitness
The growing popularity of water aerobics in the pool presents a compelling opportunity for your resort to offer a refreshing and invigorating fitness experience that sets you apart. Adding pool bikes to your resort offers a unique fitness option that engages guests of all ages and fitness levels. It provides a low-impact workout in the water, reducing joint stress and offering a fun and invigorating exercise experience. Pool bikes attract health-conscious travelers, promote inclusivity, and differentiate your resort by providing a distinctive amenity that enhances guest satisfaction and fosters a competitive edge in the market.
Pilates: The Art of Balanced Strength
Pilates has experienced a surge in popularity in recent years due to its numerous benefits and versatility as a fitness practice. A survey revealed that 5.7 million people in the U.S. were practicing Pilates in 2021.  One of the key reasons behind its growing appeal is its holistic approach to fitness and well-being. Pilates focuses on building core strength, improving flexibility, and enhancing body awareness, making it a well-rounded exercise method that addresses multiple aspects of physical fitness.
Its emphasis on controlled movements and proper alignment appeals to a wide range of individuals, from fitness enthusiasts to those seeking rehabilitative exercises. By introducing Pilates to your resort, you tap into a fitness trend that resonates with modern travelers seeking holistic wellness experiences. Guests will appreciate the opportunity to engage in invigorating Pilates sessions led by experienced instructors, helping them maintain their fitness routines while enjoying their vacation.
Partner with ProFitness
Now that you understand the appeal of these exceptional fitness and wellness experiences, allow us to introduce ourselves as your ideal partner in achieving this goal. ProFitness has earned the trust of 50 properties in the Maldives by developing premium fitness spaces that enhance guest satisfaction and loyalty.
We are proud to collaborate with the world's best manufacturers in fitness and wellness – including Vitruvian for in-room fitness, MoveStrong for outdoor fitness, Aviana for aerial yoga, Schiller and Poolbiking for water bikes, and Peak Pilates for pilates equipment. These partnerships, along with our strong values of #1 service and reliability, ensure that our offerings are of the highest quality, enabling us to provide your resort with cutting-edge equipment and solutions.
Any questions? Contact our team at [email protected]